Shark Warrior
Theme:
Variations:
Accessories:
Years:
Appearances:

The Shark Warrior is a new minifigure from the 2010 LEGO Atlantis theme. It features a new head mold and wields a Trident. This minifigure features a rubber "head" piece with painted details such as teeth and eyes. The shark warrior cannot "see" a nonmoving object as seen in The Atlantis Movie.
Appearances
Edit
The headpiece mouth can hold an accessory such as a Trident.
External Links
Edit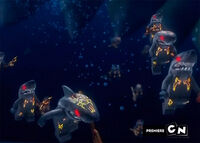 Ad blocker interference detected!
Wikia is a free-to-use site that makes money from advertising. We have a modified experience for viewers using ad blockers

Wikia is not accessible if you've made further modifications. Remove the custom ad blocker rule(s) and the page will load as expected.