Sea Striker
Approx. Size:

Small (Exact measurements currently unknown)

Appearances:

The Sea Striker is a small vehicle used by Lance Spears as he went to go retrieve the Manta Ray Key. It had a small light, and underneath that light is an arm, used for picking up objects. It had two wings, a propeller, and two Spearguns for defense. It has similarity's to the Sea Jet.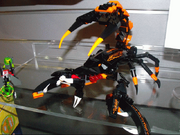 Appearances
Edit
Ad blocker interference detected!
Wikia is a free-to-use site that makes money from advertising. We have a modified experience for viewers using ad blockers

Wikia is not accessible if you've made further modifications. Remove the custom ad blocker rule(s) and the page will load as expected.