Neptune Carrier
Item №:

8075

Pieces:

475

Minifigures:
Exclusive Key:
Price:

US $59.99

Ages:

8 - 14

Released:
Theme:
Background
Edit
The set 8075 Neptune Carrier is an Atlantis set released in December 2009[1]. Included are Ace Speedman, Dr. Jeff Fisher, Axel Storms and one Manta Warrior minifigures in addition to the Mothersub, a small, scout Minisub, a Seabed Rover, a Mini Manta Ray, and a Trident. Also included is an exclusive Manta Ray Key.
This is a description taken from LEGO.com. (visit this item's product page)
---
Search for Atlantis aboard the ultimate battle submarine!
The Deep Salvage Crew divers have discovered the green Atlantis treasure key, but when the fierce Manta Warrior and its trained battle stingray attack, will they be able to keep it in their search for the sunken city? Launch your defense with the armored Neptune Carrier submarine, with quad flick-launching torpedoes, a scout mini-sub and a quick-deploying seabed rover to even the odds on the ocean floor! Includes Manta Warrior with trident and 3 deep-sea diver minifigures.
Set includes Carrier sub, scout mini-sub and seabed rover!
Includes Manta warrior minifigure plus 3 diver minifigures!
Collectable green Atlantis treasure key included! Collect them all!
Fire the four flick-launching torpedoes!
Mini sub scouts the ocean floor!
Roving vehicle scours the seabed!
Measures 12" (30cm) long!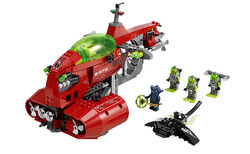 Notes and References
Edit
This page uses content from Brickipedia. (original version)
Ad blocker interference detected!
Wikia is a free-to-use site that makes money from advertising. We have a modified experience for viewers using ad blockers

Wikia is not accessible if you've made further modifications. Remove the custom ad blocker rule(s) and the page will load as expected.